Tuesday, October 23, 2007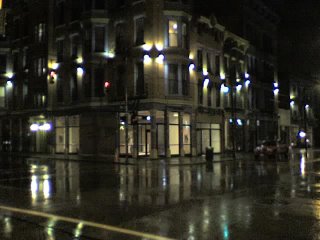 After sitting in on Debbbie Millman's "
Design Matters
"
interview
with
John
Foster
at the
Art Academy
in OTR, I walked over to Vine street on my way home. It had been a while since I had walked around over there (I lived nearby in 2001-02) and it's amazing the transformation that has taken place. Though I had always heard about the city's intent to clean up that area and make business more viable there, I had to actually see happen to believe. There is still a lot of work to be done, but the change so far is great. The above photo is facing northwest at 12th and Vine. The store front in the photo is going to be
MiCa 12v
and is opening next Friday, November 2. There used to be a little crumby convenient store in that space that didn't sell milk. I'm sure they sold plenty of other things out of that spot, if you know what I mean.
So, I just have to say that my confidence in OTR is coming back around. I certainly knew of its potential while living there, it just seemed pretty far off at the time. Seeing this, and hearing about the support that the proposed
city street car
is getting, I'm excited.
Labels: cameraphone, downtown, OTR