Friday, September 14, 2007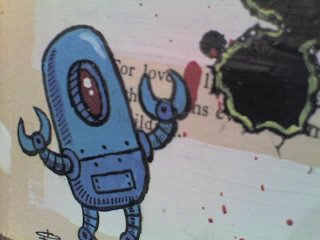 Above is one of my favorite little guys from
More Happy Than Sad
. Lots of great art, people and beer last night. Congrats to Chris, Keith and Rob on a job well done. There ultra-talented individuals, for sure.
More mobile photos can be found on
Gina's blog
as well as
Paul's
. We had the event well covered... from a photoblogging perspective, at least.
Video:
Labels: cameraphone, Gallery Show, out and about, video, warnick